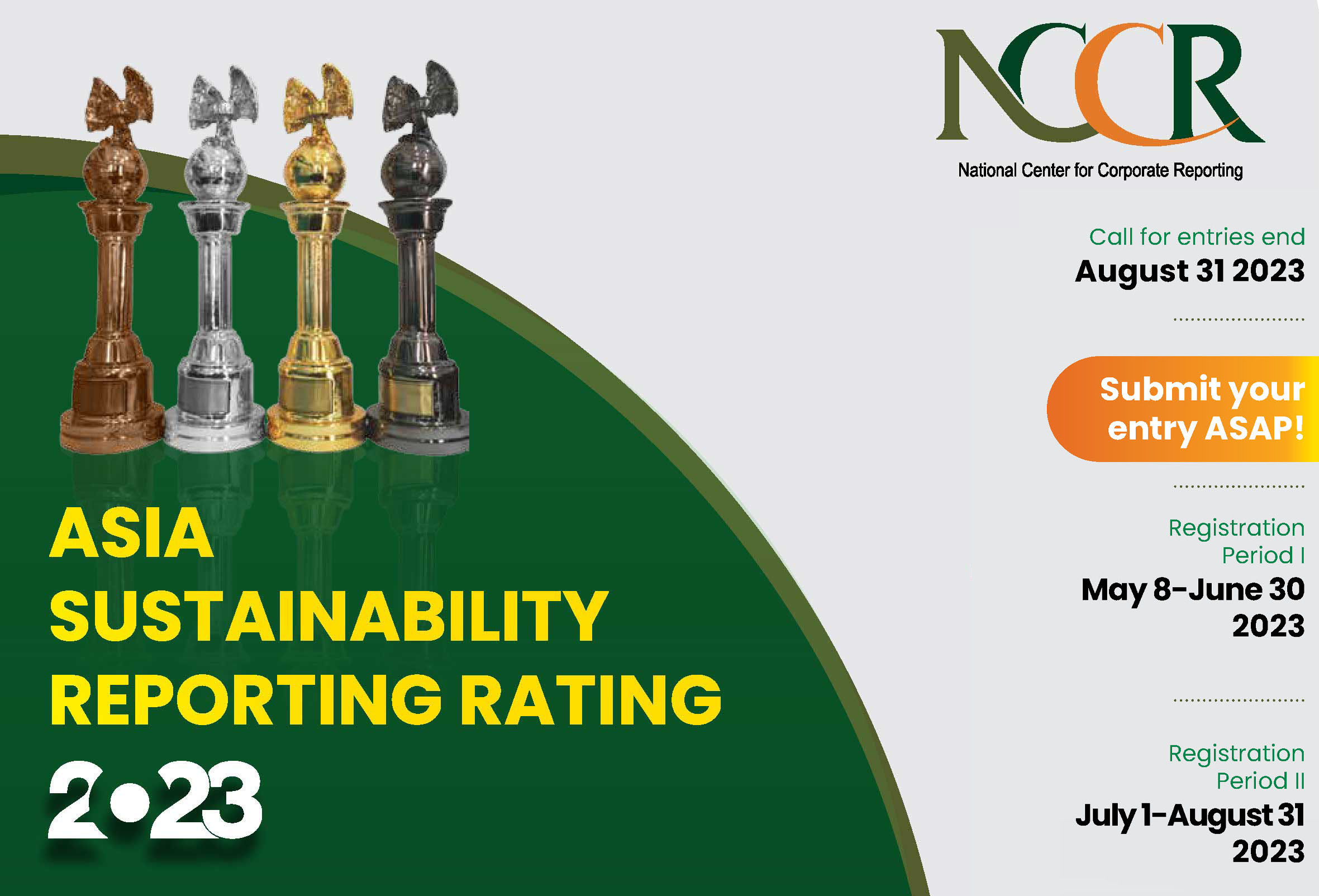 ---
Download Flyer Download Criteria Download Registration Form
---
ABOUT ASRRAT
Asia Sustainability Reporting Rating (ASRRAT) 2023 is initiated by the NCCR. It is the sixth year of Asia Sustainability Reporting Rating (ASRRAT), which was previously called the Sustainability Reporting Awards (SRA). This event has been held since 2005, this year will be the 19th acknowledge and appreciation by NCCR to companies that have made a Sustainability Report (SR).
ASRRAT 2022 was attended by 46 domestic companies and 4 foreign companies (The Philippines, Bangladesh, Russia and Australia).
Assessments are carried out by Judges and Assessors from academics who are Certified Sustainability Reporting Specialist.
The ASRRAT 2023 will be held in Jakarta
ASRRAT CRITERIA
Criteria of Asia Sustainability Reporting Rating (Asrrat) by National Center for Corporate Reporting

(*) A score of 93 or higher but not meeting the overall criteria will be ranked as GOLD
(**) – The assurance providers must be incorporated in Indonesia (for participants from Indonesia), and has to apply assurance standards used
– The Assurance Provider must have no relationship at all with the writing for, production of, or organization producing the sustainability report to be assured (***) Applied related – GRI Sector Standards (If any)
TERMS & CONDITION
Entrants to ASSRAT agree with all terms and conditions including that they will not seek to identify or contact the jury and agree that the jury's assessment is final and not subject to appeal.
All Entrants will receive a personalized Scorecard and GRI Standards – Application Levels to provide input on how to improve for the next report cycle.
BENEFIT
Trophy – All Participants except for White Ranks.
Cerftificate – All Participants
Scorecard and Feedback from Judges – All Participants
Free one seat at the Awards Presentation Ceremony – All Participants

Uploading of all participants sustainability reports on the NCCR and ICSP websites.
RATING CATEGORIES
1st – Platinum
2nd – Gold
3rd – Silver
4th – Bronze
5th – White (No Trophy)
---
HOW TO ENTRY IN 3 EASY STEPS
---
Package Your Sustainability Report
Package one (1) copy of the latest sustainability report from your company or clients
Complete Entry Form
Complete all fields for you and/or your clients as accurately as possible.
Online registration: nccr.id
Mail Your Entry
After received the email confirmation of your registration. Please send the softcopy of your sustainability report and the company logo.
---
REGISTRATION REQUIREMENT
Fill in the online registration form through nccr.id
Email to the NCCR Secretariat a digital format of Sustainability Report 2022 or Combined Report 2022Registration Fee
– Period 1 IDR 20.000.000 or USD 1430 (Register and Pay) – Max 30 June 2023
– Period 2 IDR 22.000.000 or USD 1570
To : Yay Pusat Nasional Laporan Berkelanjutan, Bank BCA KCP Arkadia No 5405631234
The assessment of your report will be processed when payment is settled and the Secretariat has received the transfer slip
ADDRESS OF ASRRAT 2023 COMITTEE
National Center for Corporate Reporting
Buncit Town House Kav. 4. Jl. H. Sa'abun. Taman Margasatwa, Jakarta Selatan 12540
Tel: +62 21 782 3524
HP: +62 813 8822 8617
Email: [email protected]; [email protected]
Website : nccr.id
Attn.: Ms. Devi Samalanga, Ms. Winda Yuantika
---
Download Flyer Download Criteria Download Registration Form
---